About
School
Gyan Niketan International School, under the aegis of the Manviya Vibhava Vikas Nyas Patna, take a journey into the realm of GNS group of Institutions since 1986 with experience the quintessential and futuristic infrastructure come to life with young hearts throbbing at every nook and corner of the school.
Gyan Niketan International School, Greater Noida is proud to have legendary and eminent educationist Ms. Anita Kunal as its Administrator, Legend and great visionary, Retd. IPS Officer and social activist Acharya Kishore Kunal as its chief patron and highly versatile and dynamic leader Shri Saayan Kunal as its Director.
GNIS, a serene space where modern architecture blends with traditional values to heighten the spirit of continuous learning, a place where tranquillity acquires a new dimension.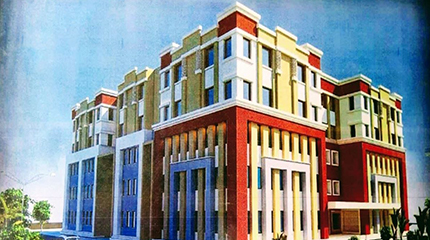 A world class infrastructure, plethora of exceptional sports facilities, a wide array of non-scholastic activities are the distinguishing features of GNIS.
State-of-the-art laboratories and well-stocked libraries provide the students the much-needed platform to harness their hidden potential.
Manaviya Vibhava Vikas (M.V.V.) Nyas which means Human Resource Development Society is an educational society registered under Societies Registration Act, 1860 (Union of India) established in the year 1986. The establishment of this society was done to create an international educational environment in whole of Bihar and Eastern India. The founder members of this society were diverse and were as follows
1. Shri Devendra Prasad Singh
2. Shri Sayyed Hassan Askari
3. Shri Mithilesh Kumar Sinha
4. Shri Krishna Chandra Sinha
5. Shri Kapil Muni Tiwari
6. Shri Pandit Kashi Nath Mishra
7. Smt Anita Kunal
Acharya Kishore Kunal and Mrs. Anita Kunal had a dream of reaching out to children who needed good education and so together they established Gyan Niketan School on 13th February 1986 and now it is run by M.V.V. Nyas.
Institutions run under M.V.V. Nyas registered under Societies Registration Act, 1860 (Union of India) are as follows
Members of M.V.V. Nyas
1
Shri Jiya Lal Arya, President
M. V. V. Nyas,Arya Niwas, IAS Colony,Kidwaipuri, Patna.
2
Prof. (Mrs.) Kavita Srivastava, Secretary
D-38, S. K. PuriPatna.
3
Mrs. Anita Kunal, Treasurer
Sadaquat Ashram, Goshala Road, Patna.
4
Dr. S. N. P. Sinha, Member
B-92, People Co-op. Colony Kankarbagh, Patna.
5
Shri D. P. S. Chaudhury, Member
Retd. Justice, Road No.6 –C, Near Marksmen Coaching Institute, Rajendra Nagar, Patna.
6
Dr. Imtiaz Ahmed, Member
788, Mohiuddin Enclave, New Patliputra Colony, Patna.
7
Mr. Mithilesh Kumar, Member
IAS Colony, Kidwaipuri, Patna.
8
Lt. Gen. A. K. Chaudhary (Retd.), Member
"Janak ", House No.106, Hathua Enclave, P.O. Bataganj, Danapur, Patna. ID - kchoudhary1954@gmail.com
9
Shri Saayan Kunal, Member
Advocate, Advocate, House of Acharya Kishore Kunal, "SaayanNilay", Goshala Road, Sadaquat Ashram,Patna - 10.